Events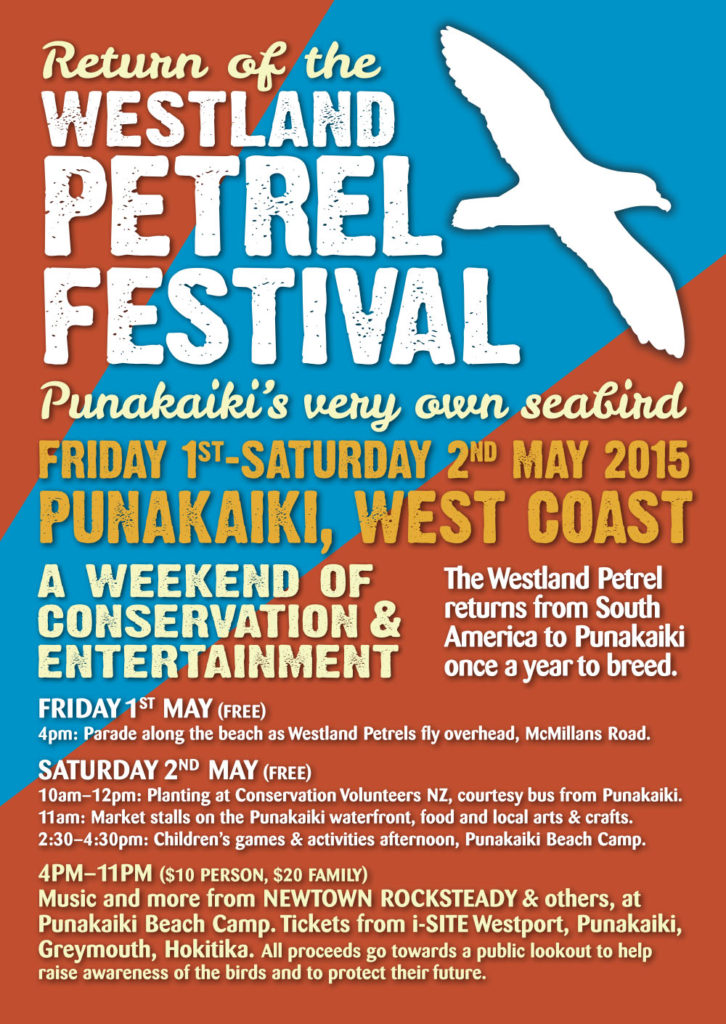 Return of the Westland Petrel Festival May 2015
Congratulations to all involved in initiating the first "Return of the Westland Petrel Festival" in May of this year and, in particular to all at the Punakaiki Beach Camp for their excellent organisation of the event.
The flyers were very clear as to what would happen and when it would happen and the timetable was kept to. Information Boards at the Camp and then at McMillans Road were informative and gave the key points about the Petrels in an easily assimilated manner.
Jed's directions were clear and concise and I was impressed with all the matters he took into account in his health and safety briefing. The DOC ranger gave two interesting and easily heard talks- one at the beginning and one while we were waiting on the beach for the birds to arrive.
Well done for the foresight of providing the horse and cart to take those who found sand walking difficult as we went the 1km to the site where we waited to see the birds. We should also congratulate the birds on appearing on cue and in some impressive numbers.
This was a sight it will be very hard to forget and I, for one, would certainly want to return for next year's Festival.
I would also like to congratulate the Camp for their office and shop. The shop is well stocked and the owners welcoming and obliging.
We wish the organisers every success in keeping this festival going in future years and wish them well in the fundraising to protect the bird's future.
Ian Cameron
6 May 2015