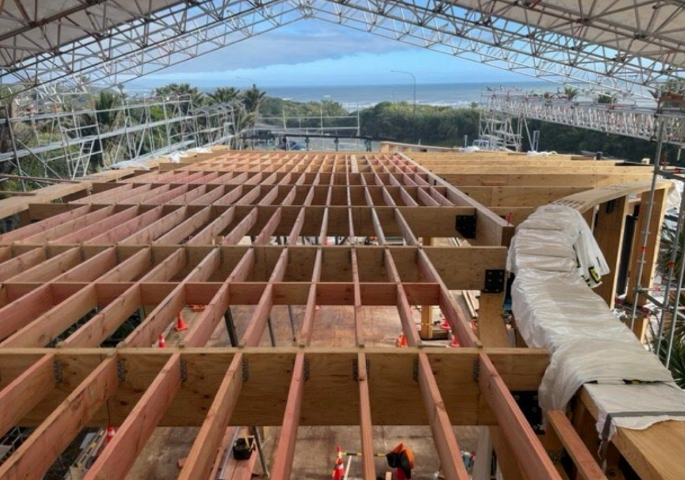 Punakaiki's NEW Skyscraper
As everyone can now see, construction of the new Visitor Centre is well underway , with metal framing and laminated timber uprights showing the design and shape of the building to be. Some have wondered about the apparent height of the 'roof' indicated by the giant scaffolding spans and white covers, but rest assured, the finished building will not soar nearly that high. 
The building itself is emerging at approximately half the height of the canopy at the lower end , rising to take in the mezzanine floor at the northern end. The mezzanine floor ing is already in place, with views right out to the ocean , and the first glass panels are in place. Photo Cred: J. Flemming & Naylor Love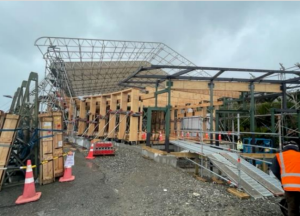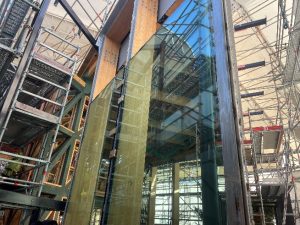 Funding for Stage 2
You'll remember that collective breath has been held, for some months now, to learn if the necessary extra funding would be found to complete the project, divided into stages early last year due to hugely escalating costs [see March 2022 update].
The good news is , the Project has now secured additional government funding which will enable completion of the important multi – media visitor exhibition space , pedestrian link bridge, water treatment [to deliver potable water to the key visitor facilities ], the section of shared pathway through
the bush linking the southern section to the section from Dolomite Point north to Truman Track, landscaping, a pedestrian promenade upgrade, a nature walk and viewing platform on the hillside behind the new Visitor Centre, traffic control and pedestrian crossing upgrades. The project is on target to deliver much of the above by the s tart of this coming summer [with 1 December 2023 the intended Visitor Centre opening date] and will then continue with the multi – media exhibition construction and fit – out, with a scheduled opening date of later next year [2024].
The green roof

Recent media articles in the Grey Star, Westport News and Messenger show thousands of plants growing away, to be planted up later this year. They are all low – growing and have been eco – sourced from around the Dolomite Point area . Thank you to the team from Conservation Volunteers NZ